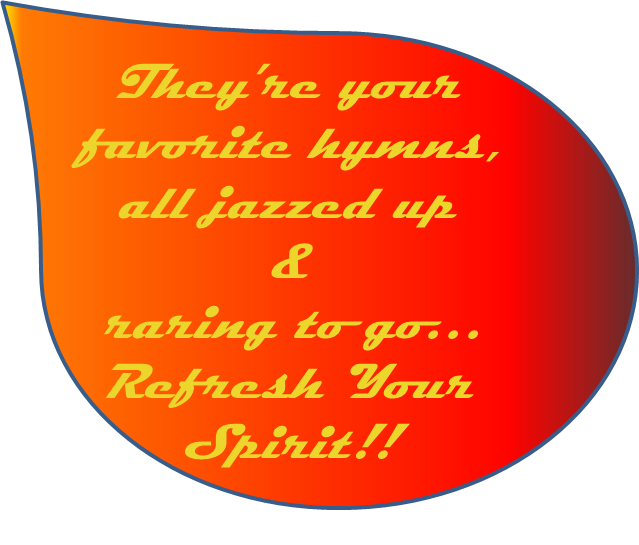 Cheryl, along with the exquisitely talented
Producer/Accompanist Jon Williams (Jamaica),
has artistically crafted Hymnal favorites in contemporary style,
grafting them deftly into the current era.
At times the transition is mild and mostly familiar;
then, it's a startlingly refreshing contrast;
and on other songs it is a comfortingly personalized poignancy.
But this collective is not to be missed!!
Cheryl …in Hymns  features more than
12 tracks of hymnal and spiritual favorites like:
| | |
| --- | --- |
| | Audio clip: Adobe Flash Player (version 9 or above) is required to play this audio clip. Download the latest version here. You also need to have JavaScript enabled in your browser. |
| | Audio clip: Adobe Flash Player (version 9 or above) is required to play this audio clip. Download the latest version here. You also need to have JavaScript enabled in your browser. |
| | Audio clip: Adobe Flash Player (version 9 or above) is required to play this audio clip. Download the latest version here. You also need to have JavaScript enabled in your browser. |
| | Audio clip: Adobe Flash Player (version 9 or above) is required to play this audio clip. Download the latest version here. You also need to have JavaScript enabled in your browser. |
| | Audio clip: Adobe Flash Player (version 9 or above) is required to play this audio clip. Download the latest version here. You also need to have JavaScript enabled in your browser. |
| | Audio clip: Adobe Flash Player (version 9 or above) is required to play this audio clip. Download the latest version here. You also need to have JavaScript enabled in your browser. |
| Tis So Sweet To Trust In Jesus | Audio clip: Adobe Flash Player (version 9 or above) is required to play this audio clip. Download the latest version here. You also need to have JavaScript enabled in your browser. |
Orders are $14.99 – complete album, mp3 or CD version
Click on the name (above) to hear a sample of each track listed.